Award winning Gospel Artist Sinach is ready to thank and praise God! Of course, she's always ready to do this and for 5days from August 30th until September 3rd this is exactly what she'll do along with some of her friends.
5 Days of Unending Thanksgiving will take place in Lagos at the Monarch Lekki. Furthermore, this event is free! Registration is mandatory and each day kicks off by 6pm and is billed to end by 9pm for the five days.
The announcement and regular updates can be found on her IG page @thereaslsinach. "It will be 5 days of music, dance, worship and praise like never before at the MONARCH Lekki Lagos Nigeria." The scriptures used in the announcement are as follows;

"David said to Michal, "It was before the Lord, who chose me rather than your father or anyone from his house when he appointed me ruler over the Lord's people Israel—I will celebrate before the Lord." - 2 Samuel 6:21 NIV

"Then my song will be a burst of praise to you. My glory-shouts will make your fame even more glorious to all who hear my praises!" - Psalms 69:30 TPT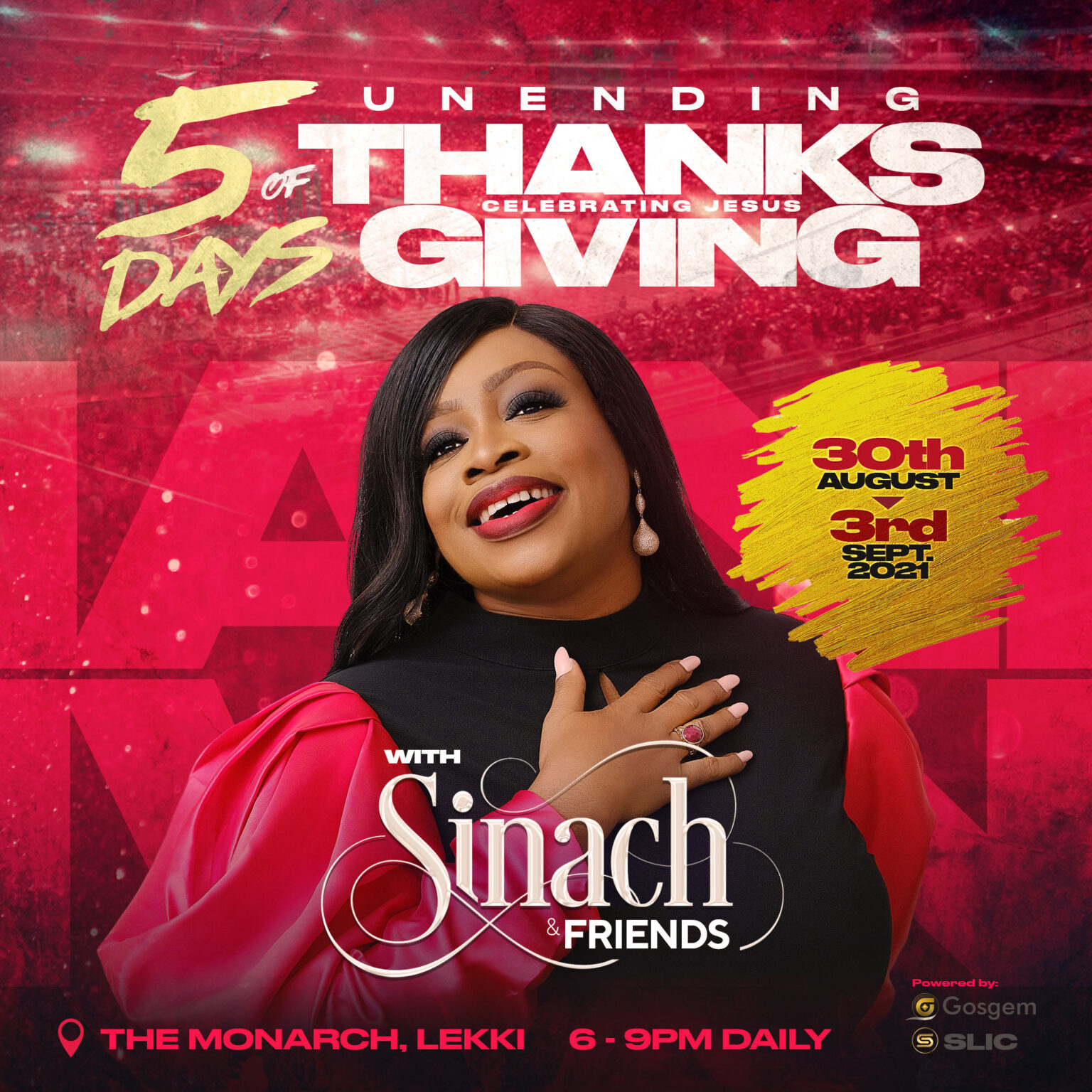 Fellow gospel musicians billed to minister with Sinach include Sammie Okposo, Nathaniel Bassey, Efe Nathan, Frank Edwards, Folabi Nuel, Dunsin Oyekan, Ayo Vincent, Glowreeyah Braimah, Limoblaze, Nosa, Michael Stuckey, Ada Ehi, Tope Alabi, Nolly, KI, Ccioma, Da Music, Cyude and Dieko.

This will no doubt be one for the books as children of God gather in thanksgiving with Sinach from Monday 30th. Remember that God is worthy to be praised and surely there must be a reason you want to thank Him, no matter how small you think it is!